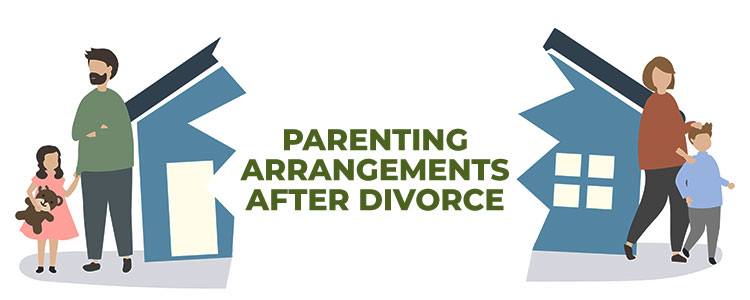 Divorce is painful for everyone concerned, especially children. During this challenging period, children need love, support and contact with both parents.
Creating certainty about the future is crucial for children when their parents separate. Parents coming to a mutual agreement about parenting arrangements can help to provide clarity and certainty.
When parents agree
Following separation, parents may agree on a parenting arrangement that works for them and the children. The agreement should focus on providing for the needs of the children and may include financial arrangements.
A parenting arrangement can be agreed orally, in writing or put into a formal court order known as 'consent orders' (which requires an application to the court but does not require a court appearance).
When parents don't agree
If parents can't agree on parenting arrangements, they can apply to the court for a parenting order. Usually (except in the case of family violence and other specific circumstances), parents are not permitted to apply for a parenting court order until they have first attempted family dispute resolution (mediation).
The court's primary concern will be to protect the children from psychological or physical harm. The court will address this before deciding about parenting arrangements.
The Australian Government has published a book to help develop parenting plans. This resource can help prepare clear, practical parenting arrangements that are focused on what's best for the children.
What to consider when creating a parenting agreement?
When making parenting arrangements, parents may consider a range of issues including:
The capacity of each parent to provide day-to-day care?
The age of the children?
The arrangements for the children before and after school and during  school holidays?
Will the children spend their time with other significant people in their lives, like grandparents or other relatives?
The children's educational needs?
Any cultural considerations?
The special needs of the children, including educational and medical?
The children's wishes, having regard to their age and stage of development?
Other practical considerations such as transport and accommodation expenses?
While a routine may be best for your children overall, flexibility is likely to be an essential ingredient of a parenting agreement.
Relocating with children
If you are thinking of relocating with your children at a distance that would dramatically affect the time they spend with the other parent, you will need to come to an agreement with the other parent. If agreement is not reached, an application to the family law courts seeking permission to relocate the children will be required.
The proposed relocation destination may involve moving intrastate, interstate or overseas. Consider how the relocation will affect the children's relationship with the other parent and ask yourself the question 'Would the move be in the children's best interests?' – the court will ask the same question.
What's next?
Consider what is best for your children's short-term and long-term wellbeing.
Work out what concerns need to be addressed in your parenting arrangement.
Decide whether you want the parenting agreement to be an informal oral or written agreement, a parenting plan signed and dated by both parents or a court order obtained by consent or by order of the court (judge made order).
Contact an accredited family law specialist or family dispute resolution practitioner to obtain the advice that you need to resolve your post-separation parenting issues.